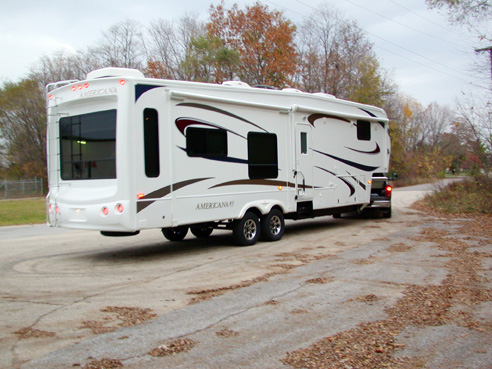 Jeff finishing his 180° turnaround -
After Jerry's towing instruction, Jeff felt comfortable enough to head back to California Jeff did have motorhome driving experience.
(click on image to enlarge)
Below is the text from an email just received from the Gunns.
From: Jeff Gunn
Date: Friday, November 6, 7:30 PM
To: Russ@americanarv.com
Hi Russ - Thanks for the photo. We agree that it is a beautiful coach and the Cherry wood really sets it off. We really enjoyed the experience of coming to Elkhart and going through your "shake down" program. The truck and coach are well balanced and literally glide along and are a pleasure to drive. I am writing this from Elk City, OK on our second night on the road to our home in Southern,CA.
Please pass on our thanks and kindest regards to Jerry, Ron and the crew in Elkhart. A memorable experience!
Thank you, Jeff & Sue Gunn